Why a career in teaching Robotics?
Out of our own experience and learning's from our various programs, we feel Robotics provide an excellent platform for sparking imaginations of participants of virtually every age. A kinship between the sciences we learn today and the technology we will create tomorrow. It allows developing invaluable skills such as problem-solving, logical reasoning, critical thinking and creativity. These skills greatly progress their competitive edge and aid them to excel in career advancement.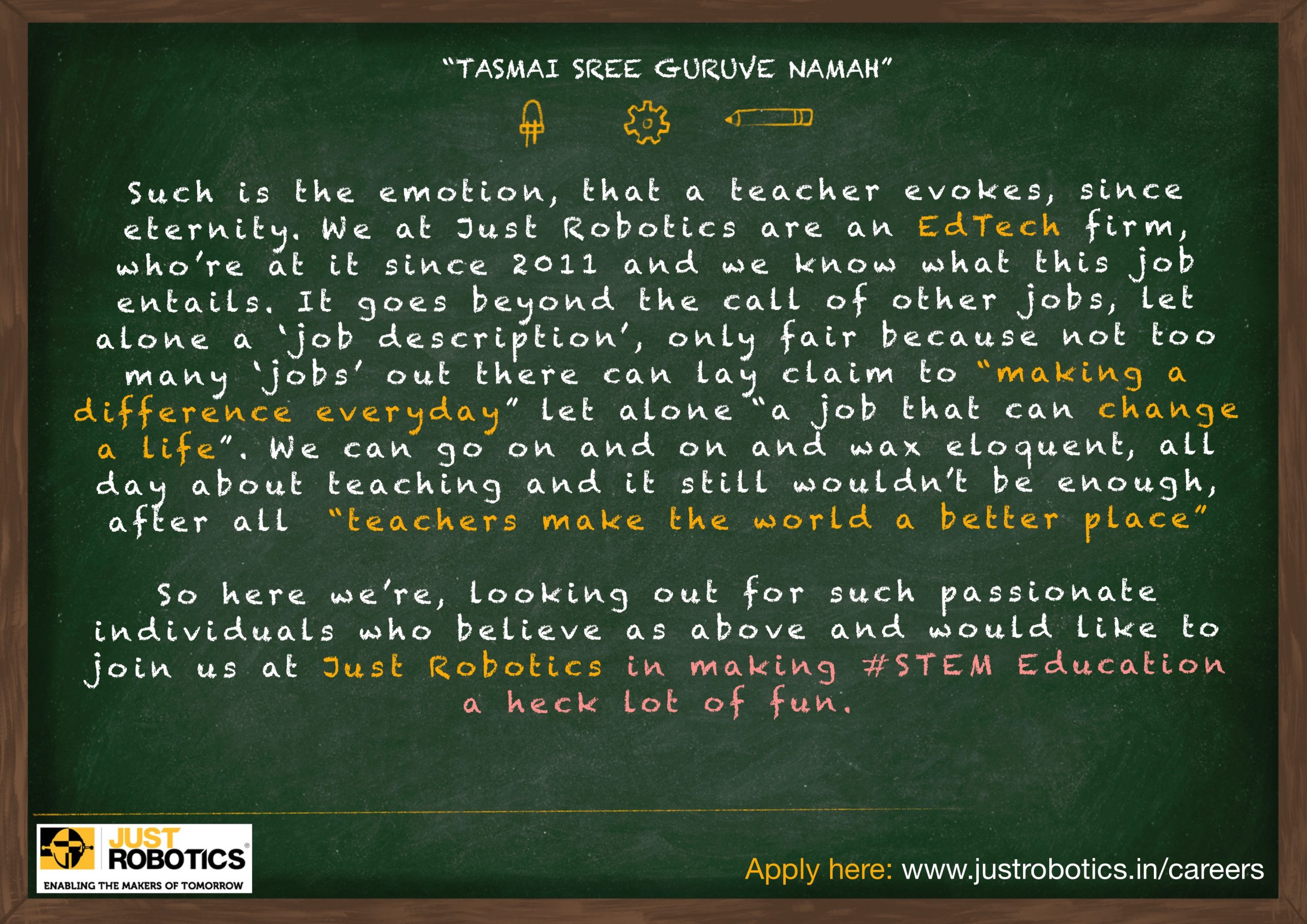 Roles and Responsibility:
We love technology and we believe it can make a difference to the world we are living in. In taking this technology to little hands we have a greater responsibility to be able to deliver it in a very systematic yet fun manner. Frankly, we are a little untraditional in our teaching methods. We are looking at someone who can bring some order into this.
A champion who works with us should:
Be able to use science, technology, engineering and mathematics as tools to create an interactive learning environment. This will involve framing curriculum, designing courses, creating new tools and learning materials.
Be able to engage in classroom activities with students and facilitators.
Be able to learn from real world problem statements and translate them to suit classroom simulations.
Be able to learn, adapt and implement on the go. Most of the sciences we learn today and technology we will use tomorrow is embedded in using Robotics as a learning tool.
Be able to train and lead delivery champions and teams to plan and conduct programs effectively.
Skills required:
Passion and Enthusiasm for Teaching, Learning, and Collaborating: We do more working together than doing things alone. Each of us try to bring unique skill sets to the table.
Problem solver and Innovator mind-set: It is a everyday affair at Just Robotics.
Written and Verbal Communication Skills:
A strong sense of humour: Our kids do not want to think science and engineering teachersare damn serious!
Strong interpersonal skills.
Qualifications:
As long as you love kids and willing to be a teacher you'll be qualified to work with us.
Engineering/ Science background is preferred but not mandatory. If it's a background in engineering/ science, Physics/ Electronics/ Computers as a major would be preferred.
If engineering/ science is something that you've not studied but would really love to embracing it, we will still be okay to teach you some of it.
Prior experience in teaching kids and using technology platforms in classrooms is a plus mark.
How to apply:
You are expected to apply for an opportunity to work with us with a brief letter of purpose. Please mail it to reachus@justrobotics.in. The letter of purpose has to clearly state why you would like to work with us and what your expectations from the organisation.
Your profile along with the Letter of purpose is used as a tool to screen for the telephonic interview.
You'll be intimated about the telephonic/ Skype/ Video conference interview. We will meet at a mutually agreed and a time convenient to both of us (20 min). This is an opportunity for us to get to know each other.
If need be, there will be a face to face interview at a convenient date and time at our Bangalore office.
You'll be intimated personally about the selection.