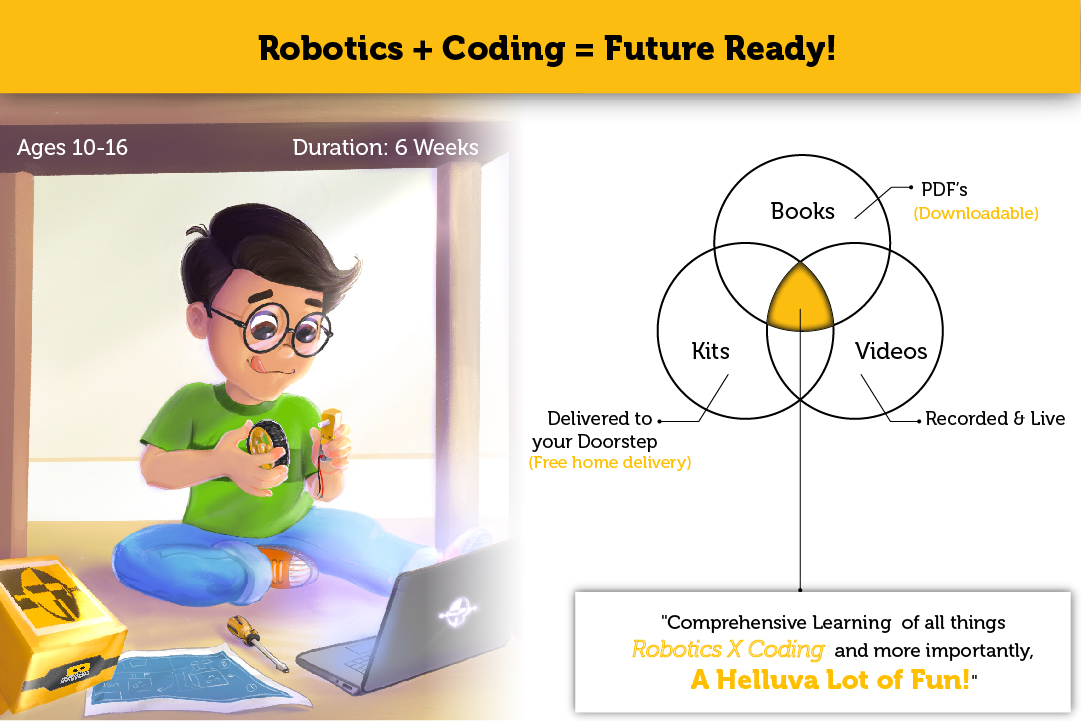 Videos & Notes
Learning through Audio/Visual Medium is effective, engaging and increases participation whilst increasing retention and reducing cognitive overload. It also addresses different learning styles of visual, auditor and kinesthetic learners.
Free Shipping
Convenience.
Simpler price structure and one less hassle to worry about.
Live Sessions
Helps in establishing a sense of community and the presence of an able instructor. And more importantly, it imbibes the 'feeling of being in a classroom'
DIY KIT
As hands-on as hands-on can get. Helps develop creativity, problem solving skills and instills a sense of pride upon finishing a project.
What Will My Child Learn ?
Line Following Robot
Build a robot from ground up that which can 'follow a line', autonomously! – It is an Autonomous Navigation Robot, using an IR (Infrared) sensor and is based on Arduino.
Obstacle Avoidance Robot
Build a robot from ground up that which can 'avoid an obstacle', autonomously! – It is an Autonomous Navigation Robot, using an Ultrasonic sensor and is based on Arduino
Mobile Controlled Robot
Build a robot from ground up that which can be controlled using your very own mobile phone. It is also based on Arduino.
Arduino programming
Over 40+ code snippets will be taught throughout the course. And this will mean actual, hands-on coding and none of the 'drag and drop/block' based interface used otherwise. Coding exercises with keys and solutions are included.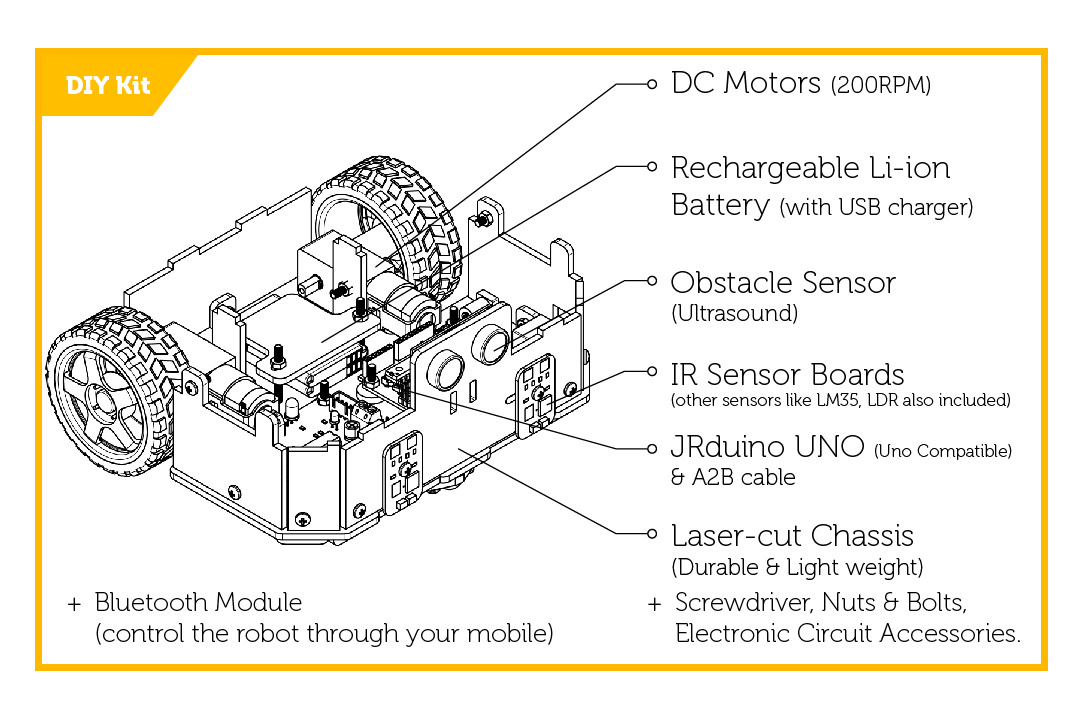 Once the order is placed, when will I get the kit?
We will send you the tracking details once it is shipped. The kit is usually shipped within two days from the date of receipt of order. It'll take three to five days for the kit to reach you.
Who will conduct the classes?
Well trained mentors facilitate the live sessions. Mentors who conduct these classes are Robotics Engineers who design and build robots. The program is designed with years of experience in the field of STEM and Robotics Education. Mentors are accessible through e-mail or whatsapp or call, throughout the duration of the course. 
What is the format of the class?
The course is divided into two parts.
One is the weekly recorded videos which will be shared with you every week. You can watch this at whatever time that is convenient to you.
The second part is two live sessions that will be conducted every week. In case you are not able to be part of the live session, then recorded videos will be provided. It is advisable that you attend at least one live session every week.
Is prior knowledge of Robotics important?
No. Prior knowledge of Robotics is not necessary. The class is for anybody who wants to learn Robotics and we start afresh
How much time should one dedicate everyday?
A good three to four hours in a week is sufficient. This includes the live sessions as well.
Will MMR class schedule overlap with that of my/our regular school schedule?
We will provide you with time slots to choose from, with classes happening throughout the week. There will be multiple live sessions happening during the course of the program. In case you miss the live session, you can always refer to the class recording.
Do I need a laptop or computer before I enrol for the program?
Because this is a hands-on program, you'd be required to program a robot. It is highly recommended that you use a laptop for programming. The videos and course can however be accessed through a phone/ tablet/ other streaming devices. 
Are the kits modular?
The kits are to a great extent modular and Do It Yourself type. They come with nuts and bolts and can be assembled and disassembled using the tools provided. The robot kit can be programmed for different applications. The components can be reused in multiple other projects.
How do I change the shipping address?
From your registered e-mail ID please write to reachus@justrobotics.in with the following details within 24 hrs. Order ID, Shipping Address, Contact Details. We will do the needful.